Wondering what to do in Nordeste, Azores? We got you covered.
Nordeste on São Miguel island is a beautiful, isolated location that is perfect for travelers looking for something a bit different on their next trip.
We have put together this guide on Nordeste, the best things to do in the area, and how you can best enjoy your trip there.
Best things to do in Nordeste
Here we share a list of the best things to do in Nordeste, São Miguel.
Explore the town of Nordeste
One of the first things to do when visiting Nordeste is to explore the town.
With beautiful, traditional Portuguese architecture to be found throughout, the town holds a quaint charm and appeal.
Simply strolling through the town can be a relaxing way to experience the area, but there are some key points that are highly recommended.
These include the Ponte dos Sete Arcos bridge, a traditional bridge first built in the late 1800s at the entrance to the village. Its narrow form and striking design make this a great stopping point while exploring the town.
The impressive Church of São Jorge is another such point, with its strong contrast black and white and amazing atmosphere.
There are also many gardens and parks to explore while in town, some with views of the oceans. These can be great picnic spots if you are taking a day trip.
Admire the view from the many viewponts
Ponta da Sossega viewpoint and gardens
The terrain and landscape of São Miguel and the Nordeste area mean there are many amazing viewpoints with great views over the scenery in the area.
One of the best viewpoints is the Ponta Da Sossega viewpoint and gardens.
Ponta Da Sossega is the largest garden in the municipality with a huge range of carefully maintained and cared for flowers and plants over the 13000m2 area.
The gardens are a perfect place for a casual stroll while soaking up the natural surroundings.
The gardens also have a great view over the ocean.
These views along the cliffs and over the ocean are spectacular but are equaled by the amazing gardens.
There are picnic tables near the viewpoint for people to enjoy.
Address: EN1-1A, Nordeste, Portugal
Ponta da Madrugada viewpoint
The Ponta Da Madrugada viewpoint is another popular choice as it is often the first viewpoint to be reached by visitors to the region due to its location.
As it is on the south side of the region, visitors will come to the Ponta da Madrugada viewpoint before entering the town, making it a great first stop on your journey.
It is often considered a 'sunrise spot' as it provides amazing views of the sunrise over the ocean if you arrive at the right time.
There are extensive cliffside ocean views which are accompanied by a large, relaxing garden area.
The tranquility of the garden combined with the amazing views make Ponta da Madrugada a must-see, whether at sunrise or during the day.
Pico do Bartolomeu viewpoint
The Pico do Bartolomeu viewpoint is a little more remote as it is at the end of a dead-end, narrow road (although it is safely accessible by a good driver).
However, don't let this put you off as it has some of the best views in the area.
The high altitude allows the area to support native vegetation and plants which may not be as easy to find in other areas.
It also overlaps with the Ribeira do Guilherme, a protected native area, meaning the native flora and fauna is well preserved. The Pico do Bartolomeu viewpoint provides amazing sweeping views over the eastern coast and the entire Nordeste municipality.
Visit the Farol do Arnel
The Farol do Arnel is a significant piece of history as it was the first lighthouse to be built not only in São Miguel but in all of the Azores.
Its octagonal shape and interesting design make this a unique sightseeing spot, especially for visitors from areas where round lighthouses are the norm.
However, the real draw to Farol do Arnel is its stunning location.
One a craggy outpost among the cliffs of Nordeste, the lighthouse is isolated yet has amazing views.
The top of the road to the lighthouse has great views over the lighthouse itself and the surrounding area while descending to the lighthouse allows you to see the historical artifact up close and really feel part of history (as well as the great ocean views).
The road down is very steep and winding, meaning it requires either a very good driver or a walk down instead.
Go hiking
Another popular activity while in the Azores is hiking and Nordeste is no different. Here are some of the top hiking trails of the area:
Fajã do Araújo trail
The Fajã do Araujo trail starts in the small town of Pedreira and covers almost 4km of forestation and scenery, coming out along the ocean to provide beautiful views.
It is largely unsignposted, which can provide some confusion but once you are on the trail it should be easy to follow. The trail is steep in parts but it is largely ok for walking.
It generally takes around 1 and a half hours to complete.
Lomba da Fazenda ( PRC 31)
Another good option for reasonably experienced hikers is the Lomba da Fazenda trail.
This hiking trail starts near the church of Nossa Senhora da Conceicao and loops through many interesting parts of the area.
It covers the nearby historical watermills, unique forestation, cliffside views, and many parks until getting to the harbor.
It is possible to make detours from this trail to spend time in the Nordeste town as well. It is considered a medium-difficulty trail and often takes 2.5 – 3 hours.
Pico da Vara
The Pico da Vara hike is a great forest trail, as it crosses through the Nature Reserve of Pico da Vara and includes an environmentally protected area.
This hike reaches the highest point of the island, at 1103m high.
When taking this hike, you can see a range of forestation ranging from native species to maintained imported species.
Lomba D'EI Rei( PRC 38)
The Lomba D'el Rei trail is a loop trail along some beautiful areas of woods in the Nordeste area.
It covers 4.4km and generally takes around 2hours.
This hike comes close to the impressive Ribeira dos Caldeiroes and Ribeira do Lenho, providing amazing views.
It also passes many traditional watermills and comes close to some villages which offer good points to stop off and take a break.
Visit Parque Ribeira dos Caldeirões
Ribeira dos Caldeiroes is one of the key attractions of the area with its impressive appearance and many ways to enjoy it.
The Parque Ribeira dos Caldeiroes is created around a series of waterfalls. It is set in an amazing landscape dotted with colorful flowers.
The park's well-maintained trail system will take you to both sides of the street. You will come across a number of old mills and several ponds as you hike the trails. Picnic areas allow you to have a delicious lunch while enjoying this paradisiacal landscape.
For an overview of great restaurants in Nordeste, click here.
The park is a protected area and till today is still free to visit.
Make sure to come early if possible because it can sometimes be hard to find a parking spot. Here are more amazing São Miguel waterfalls.
Go Canyoning in Ribeira dos Caldeiroes
Another way to enjoy the Ribeira dos Caldeiroes natural park is through canyoning.
Canyoning involves navigating mountain and waterfall areas through abseiling, rappelling, and jumping to allow oneself to be carried by the natural current. Some canyoning experiences also include zip lines.
With the lush forests and stunning waterfalls of the Ribeira dos Caldoeiroes, canyoning is a great way to experience the scenery in a new and exciting way.
It is an interesting way to go outside of the ordinary hiking and walking and get the adrenaline rushing while also enjoying the beautiful natural surroundings.
There are a number of canyoning tours and experiences available that either focus on or include the Ribeira dos Caldeiroes.
Relax on the beach of Praia do Lombo gordo
After seeing so many amazing sea views, it would be no surprise if you wanted to visit a beach to get up close to the ocean. Praia do Lombo Gordo is a great opportunity to do just that.
This pristine beach is beautiful with unique 'black' sand and clear water.
It is rarely crowded, allowing you to enjoy the solitude and peacefulness of the beach. It is possible to go swimming at this beach and water temperature is comfortable at the right times of the year.
The road to get to the beach is steep and can be intimidating, and there is also a short, yet steep walk after the road.
However, the calming, tranquil experience of relaxing on the beach easily makes up for this.
Here is an overview of more São Miguel beaches.
Visit a park
There are many beautiful parks in the Nordeste area, especially as protecting the environment is a high priority.
The remoteness of the location also means there is an abundance of natural spaces.
Visiting these parks is a great way to enjoy nature, find a good picnic/lunch spot, and learn more about native flora and fauna.
One example of this is Jardim da Ribeira do Guilherme, a lovely garden that follows the stream, Ribeira do Guilherme.
This means there is the constant sound of flowing water as you walk among the flowerbeds and trees, adding greatly to the atmosphere.
There are also two watermills on site. Another is the Foz da Reibeirs das Coelhas, a popular picnic park with a good amount of picnic facilities.
It is close to a bathing area as well as a short walk from the Salto da Farinha waterfall.
This makes it a great park for experiencing and enjoying various activities.
Seeing the parks of the Nordeste area is a great way to enjoy the natural surroundings in a more casual way.
Where is Nordeste?
The Azores is a beautiful 9-island archipelago located west of mainland Portugal in the North Atlantic. Its unique location makes for some amazing views and activities to take part in.
Nordeste is located on the largest and most populous of the islands, São Miguel.
This makes it one of the most popular locations for visitors to the Azores.
However, the remoteness of Nordeste in the northeast tip of the island means that it has retained an old-world charm and untouched scenery.
How much time do you need in Nordeste?
When planning a trip to São Miguel it may be hard to estimate how long is needed to fully experience and enjoy Nordeste.
A good amount of this will come down to personal preferences, how fast-paced your holiday is and what you are most interested in doing in Nordeste.
Many travelers visit Nordeste as a day trip from Ponta Delgada, the capital of São Miguel, or Furnas, another popular city, well-known for its geothermal activity, impressive volcanoes, and hot springs.
A day trip is a great way to experience the town and explore the region while maintaining a 'base' in a more populated and convenient area.
Some may prefer an overnight trip, in which case accommodation is a necessity.
Where to stay in Nordeste?
Here we have some well-recommended properties in the area if you are considering staying for longer.
Casa da Chaminé Eco Country Lodge
Casa da Chamine Eco Country Lodge is a beautiful, relaxed set of modern country houses.
With bright, spacious interior design and amazing natural surroundings, the house makes for an ideal accommodation spot.
There is a large outdoor pool as well as a grill and sun terrace.
This, along with the large garden, are great for relaxing and eating outdoors.
The units are all air-conditioned and all have a spacious living area and comfortable sleeping area.
A kitchenette is included in all units and is well-equipped with all modern appliances, including a coffee machine.
The lodge offers both one-bedroom and two-bedroom options, with the one-bedroom able to accommodate two adults and a child and the two-bedroom able to accommodate 4 adults and a child.
Check prices and availability:
Casa do Castanheiro, Nordeste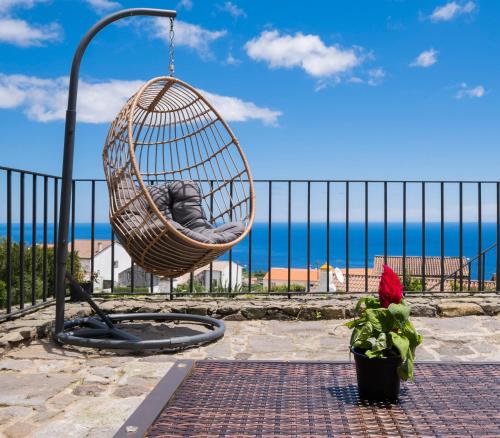 Another great accommodation option in Nordeste is Casa do Castanheiro.
These lovely chalets use a tasteful mix of natural woods and modern design to accent the stunning natural surroundings.
The chalets all have a balcony area, which is great for enjoying a relaxing morning in the sun. There is also an outdoor pool, garden, and sun terrace with grill facilities.
Enjoying the pool followed by an alfresco grilled meal is an idyllic way to spend an evening at Casa do Castanheiro. There is also a continental breakfast provided daily.
The chalets are two bedroom-sized and come with a full kitchen and living area.
Check prices and availability:
How to get to Nordeste
When looking at visiting Nordeste, an important consideration is transport.
How are you going to get to Nordeste? There are a variety of options available, including driving, pre-arranged tours, and some bus options from main city centers.
Driving
The easiest way to travel to and around Nordeste is by driving.
Renting a car while visiting the island of São Miguel is one of the easiest ways to ensure that you can see everything you want to see and get to all the places you want to go, on your own time and schedule.
Public transport can be difficult to navigate, doesn't reach a lot of places, and requires a lot of working around to fit the schedule.
Renting a car is by far the easiest option.
Join a guided tour
Another option for getting around is by taking a guided tour.
There are many guided tours available and by looking to find the best tour to suit your preferences and budget you can find an ideal way to experience everything you want to see.
This is also a perfect alternative for those who can't drive or don't want to rent a car while traveling.
From Ponta Delgada: Azores Northeast full day tour
A great choice from among the many tour options is the Azores Northeast full-day tour, an 8 hr tour circling through the north of the island, starting from and returning to Ponta Delgada.
This tour stops at a number of places of natural beauty, such as the waterfalls of the Natural Park Riberia do Caldeirões, the viewpoint of Santa Iria, you will taste the famous cozido stew, and visit the hot springs of Furnas.
This tour is a great option as it allows you to see some of the best sites in the area without needing to worry about navigation or scheduling.
Conclusion
Whether you visit Nordeste for the amazing hiking, beautiful views, charming town atmosphere, or just for something a little different, the area will always be above and beyond your expectations.
Here we have some of the best things to do in Nordeste, Azores as well as some important information for travelers to Nordeste.
Looking for more things to do in the Azores? Check out our Azores travel guide.